I love Ghost Stories. I always have. When I was a kid, I read The Canterbury Ghost over and over. One of my favorite things to watch was the "Creature Feature" on TV. Don't even get me started on Edgar Allan Poe!... (they are making a movie-
John Cusack as Poe
... (Poe is suddenly sexy? I'll go with that, Mr. Cusack... I've been waiting for you to call me for like 30 years)
I am MADLY anticipating Daniel Radcliffe in
THIS
. - ghost stories... not gore, not slash- I have no interest in "Saw Anything".... but give me a creepy, old, dilapidated house at the end of the block.... and I'm there.
My daughter, Mags, has a best friend who devours the Goose Bumps books. Mags thinks they are too scary- ???? - crazy kid. Last Year for Halloween, I gave her this book: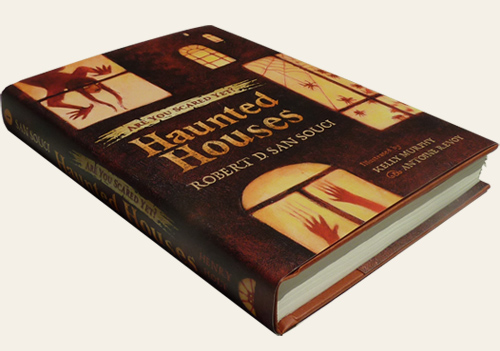 by Robert D. San Souci

,

illustrated by Kelly Murphy

,

Antoine Revoy
She loved it.
This year - we will read by the fireplace in the dark....
by Alvin Schwartz and illustrated by Brett Helquist
The fun! The Thrills! The Chills!
Give your kid a real TREAT this Halloween... give them a -scary- book!
.....it creeps
And leaps and glides and slides...
...Across the floor....
...Right through the door....
....And all around the wall....
...A splotch, a blotch ...

......Be careful of the blob
Happy Hauntings this

Halloween!